First Art Fair of the Season
Posted February 15, 2014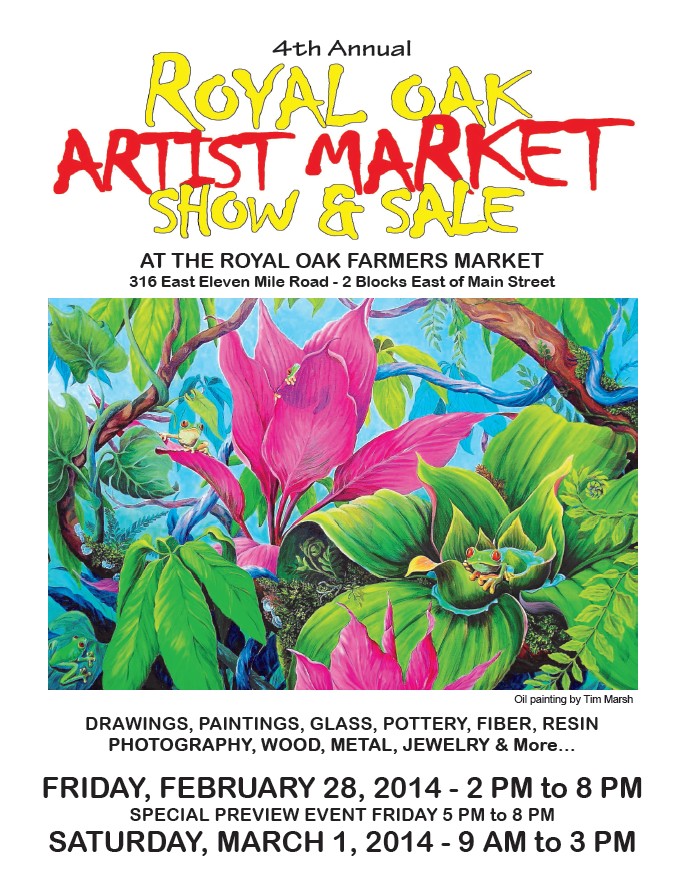 Well it's here! MY Spring opener...The Royal Oak Artist Market Show & Sale!
I love this show. After spending all winter cooped up in my VERY small studio it's so much fun to get back out into the public eye and talk to people about art. I really enjoy this show it has great artists, great ART, music, on Friday it has great apps and wine and on Saturday it even has vegetables and fresth bread! It's a great start to a great new art season. Come on out and see me you won't be disappointed.
2014 Royal Oak Artist Market Show & Sale
FRIDAY, FEBRUARY 28, 2014 2PM – 8PM
SPECIAL PREVIEW FRIDAY 5 PM – 8 PM
SATURDAY, MARCH 1, 2014 9 AM – 3 PM
The show is free, parking is free.
There is a $5.00 donation at the door for the Friday night preview party only, this will go to support the Royal Oak High School Art Program and South Oakland Artist Association.
On Saturday the show will also include several of our Farmers in the north end of the building.
I'll see you at the show!